Summer is the best time to get new books. I've got a huge summer Book Haul with 14 books and I got them all from BookOutlet which is basically my favorite online book store. Every book is super affordable and cheap, I'm talking about 1-6 dollar hardcover books. We all know a hardcover book is at least twenty dollars. However, Barnes and Noble still holds #1 for me only because it holds all the books that you want, if not in store, than definitely online. BookOutlet doesn't have all the popular YA books but it has some. OK, so, without further to do, I present The Summer Book Haul!
1. 
I'll Give You The Sun

by Jandy Nelson
Jude and her twin brother, Noah, are incredibly close. But three years later, Jude and Noah are barely speaking. Something has happened to wreck the twins in different and dramatic ways . . until Jude meets a cocky, broken, beautiful boy, as well as someone else. The early years are Noah's story to tell. The later years are Jude's. What the twins don't realize is that they each have only half the story, and if they could just find their way back to one another, they'd have a chance to remake their world.
I haven't read the book yet. But I heard from multiple sources that this book is amazing so it definitely will not just be collection dust on my shelf.
2.
Lux: Beginnings

by Jennifer L. Armentrout
Obsidian: When we moved to West Virginia right before my senior year, I'd pretty much resigned myself to thick accents, dodgy internet access, and a whole lot of boring…until I spotted my hot neighbor, with his looming height and eerie green eyes. Things were looking up. And then he opened his mouth. Daemon is infuriating. Arrogant. Stab-worthy. We do not get along. At all. But when a stranger attacks me and Daemon literally freezes time with a wave of his hand, well, something…unexpected happens. The hot alien living next door marks me. 
The title basically speaks for it self. This book(s) contains two books. The first two books of the Lux series. What I really like about it physically is that the cover shimmers. Its really pretty and big, and who doesn't enjoy a big fat paranormal book? Since I don't want to spoil the next book for you guys I won't post the Onyx intro.
3.
Lux: Opposition

: Jennifer L. Armentrout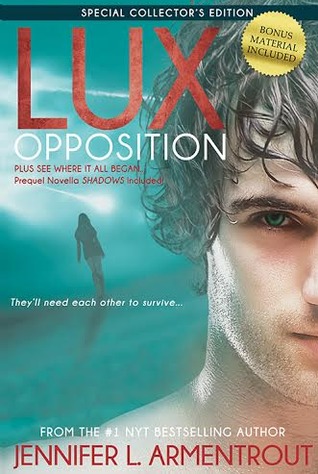 This is the fifth book and the last book in the Lux series. Since I haven't read this book I can't post the summary because that would require me to read it and I can't do that because spoilers are bound to be there. And I mean come on, who likes spoilers? It's like stepping on a million Lego's when you come across spoilers.
4.
What We Saw

by Aaron Hartzler
Kate Weston can piece together most of the bash at John Doone's house: shots with Stacey Stallard, Ben Cody taking her keys and getting her home early—the feeling that maybe he's becoming more than just the guy she's known since they were kids. But when a picture of Stacey passed out over Deacon Mills's shoulder appears online the next morning, Kate suspects she doesn't have all the details. When Stacey levels charges against four of Kate's classmates, the whole town erupts into controversy.
I've already read this book and it was good. It didn't have a magical spark to make it amazing, but it was good. I would give it a 3.5 rating. It was a good thriller read but I feel if I saw more from Stacey I would have enjoyed it more. She was
5.
The Queen of Bright and Shiny Things

by Ann Aguirre
         Sage Czinski is trying really hard to be perfect. If she manages it, people won't peer beyond the surface, or ask hard questions about her past.                                                                                                                                      Shane Cavendish just wants to be left alone to play guitar and work on his music. He's got heartbreak and loneliness in his rearview mirror, and this new school represents his last chance.                                                                                                                                                                                       
But love doesn't mend all broken things, and sometimes life has to fall apart before it can be put back together again…
I haven't read this book yet but it seemed interesting when I bought it. When I looked it up on goodreads it had a 3.73 so I don't have really high hopes for it. But it seems like it will be a feel-good, cutesy, high school contemporary romance read. And most of the time these types of reads always get bad rating but they actually are really good. Don't judge a book by its rating, but sometimes you have too…
6.
Frostfire

by Amanda Hocking
Bryn Aven is an outcast among the Kanin, the most powerful of the troll tribes.                                                                                                                                                                                         Set apart by her heritage and her past, Bryn is a tracker who's determined to become a respected part of her world. She has just one goal: become a member of the elite King's Guard to protect the royal family.                                                                         She's not going to let anything stand in her way, not even a forbidden romance with her boss Ridley Dresden.
This seems like a good book, I'm getting Throne of Glass vibes. Mostly because of Royal Guard and the Romance with her boss. I think that the boss is going to give off Chaol vibes, but will probably be the main love interest, hopefull. Overall, I'm actually excited to get into this book.
7.
Hopeless

by Colleen Hoover
Sometimes discovering the truth can leave you more hopeless than believing the lies…                              That's what seventeen-year-old Sky realizes after she meets Dean Holder. A guy with a reputation that rivals her own and an uncanny ability to invoke feelings in her she's never had before.                                                                                                                Sky struggles to keep him at a distance knowing he's nothing but trouble, but Holder insists on learning everything about her. After finally caving to his unwavering pursuit, Sky soon finds that Holder isn't at all who he's been claiming to be. When the secrets he's been keeping are finally revealed, every single facet of Sky's life will change forever.
Without a doubt, Colleen Hoover is The best author to write contemporary romances. Her books are like the Evil Queen from Once Upon A Time. It reaches into your chest and pulls out your heart and manipulates it anyway she wants to. Her books make you feel so much emotion, and it clearly. shows through her ratings. I've only read two of her books but this book is high on my TBR list.
8.
Bad Romeo

by Leisa Rayven
When Cassie Taylor met Ethan Holt at acting school, sparks flew. She was the good girl actress. He was the bad boy about campus. But one fated casting choice for Romeo and Juliet changed it all. Like the characters they were playing, Cassie and Ethan's romance seemed destined. Until he broke her heart and betrayed her trust. Now the A-list heartthrob is back in her life and turning her world around. One touch at a time.                                                                                                                               Cast as romantic leads once again, they're forced to confront raw memories of the heartbreaking lows and pulse-pounding highs of their secret college affair.
I've started this book already and is about 59% through it. It's good so far, nothing major has happened. One of the things I like about this book is that it flashes back to what happened when they were in college and also has diary entries. I usually hate diary entries but in this case she made it work. I like how when it flashes back it still keeps our interest in the present story while piquing my interest about what happened in the past.
9.
Broken Juliet

by Leisa Rayven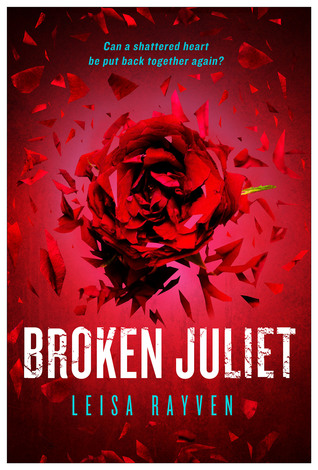 Since this is the sequel to Bad Romeo I can't put the intro/summary. Because then it would be spoiler invasion, and who wants that? All I can say is that it is the second book in the Starcrossed series, and I will most likely be reading it.
10.
Shadow Falls: The Beginning

by C.C. Hunter
                      One night Kylie Galen finds herself at the wrong party, with the wrong people, and it changes her life forever. Her mother ships her off to Shadow Falls—a camp for troubled teens, and within hours of arriving, it becomes painfully clear that her fellow campers aren't just "troubled." Here at Shadow Falls, vampires, werewolves, shapeshifters, witches and fairies train side by side—learning to harness their powers, control their magic and live in the normal world.                                                                                                                                They insist Kylie is one of them, and that she was brought here for a reason. As if life wasn't complicated enough, enter Derek and Lucas. Derek's a half-fae who's determined to be her boyfriend, and Lucas is a smokin' hot werewolf with whom Kylie shares a secret past. Both Derek and Lucas couldn't be more different, but they both have a powerful hold on her heart.
These books give off the Shadowhunter Chronicles vibes for me because of all the types of "downworlders." And the ratings on goodreads are really good, I had a friend also recommend the book to me, so I think it's worth a try.
11.
Shadow Falls: The Next Chapter

by C.C. Hunter
This compact of books contains the thrid and fourth book in the Shadow Falls series. The third book is Taken at Dusk and the fourth book is Whispers at Moonrise.
12.
Shadow Falls: Chosen At Nightfall

by C.C. Hunter
This is the last book in the Shadow Falls series, which I'm pretty sure I will not be able to read for a very long time.
13.
Chronicles of Nick: Infinity

by Sherriyln Kenyon
At fourteen, Nick Gautier thinks he knows everything about the world around him. Streetwise, tough and savvy, his quick sarcasm is the stuff of legends. . .until the night when his best friends try to kill him. Saved by a mysterious warrior who has more fighting skills than Chuck Norris, Nick is sucked into the realm of the Dark-Hunters: immortal vampire slayers who risk everything to save humanity.
The rating for this series is awesome and it gets better as you get to the other books. Well, at least that's what the ratings say. I'll probably read this book when I'm finished with my TBH list.
14.
Chronicles of Nick: Invincible

 by Sherrilyn Kenyon
This is the second book in the Chronicles of Nick. So far there are 7 and the author said she is planning to do 14 books.